History
History
Every member of society has an aspiration to improve the living standards which is directly linked with economic growth of the individual and hence the society.
Economy growth is defined as an increasing capacity of the economy to satisfy the expectations and aspirations of individuals and society.

So many individuals might have succeeded in achieving their goals, as so far as economic gains are concerned but only a few of them might have ever thought about others. Extremely important aspects of collective and sustainable success which can benefit overall evolution of society.

Many obstacles also interrupt an entrepreneur on the way but a successful man is one who can lay a firm foundation with the bricks thrown at him. Self belief is most important in building successful venture and action is the fundamental key to all success.

Founder and present Chairman of United Engineering Industries Mr. J.V. John along with co-founder, Late Mr. Henry Sabastine adopted an approach not only aiming at personal monitory gain but an overall sustainable growth and upgradation of each & everyone associated with the organization. He has always given utmost priority to the well being and welfare of each member of the organization, working at lowest or highest rank.
In 2003, Mr. Neil John, the successor of Mr. J.V. John after completing education joined UEI blending of approaches i.e. vast experience of Mr. J.V. John and most advanced skills of Mr. Neil John have led to earn a very respectable position for the organization, which is reflected by the facts given in this profile.

Way back in 1973, UEI started as an ancillary unit engaged in manufacturing and supplying the small machined components for traction motor, switch gear item and gradually added the light weight fabricated items upto 5 mt. like HT/LT stator frame, small fabrication items of Block I-B BHEL Bhopal.

Today UEI has become the established and leading manufacturers of Heavy Engineering Fabricated Components, Heat Exchangers, Industrial Coolers, Fin Tubes and Fabricated Assemblies of HT/LT Stator Frame, traction motor components, Transformer tanks components for wind Mill Power, Turbo Power and Hydro Power Electric generation, insulation & Rubber components, assemblies of Hydro Generator and Steam Generator for power Generation Units.

In view of having additional capacity of manufacturing, we have started a separate wing specially engaged in designing and manufacturing of Heat Exchangers, Industrial Coolers and Fin Tubes, which is supported by a team of qualified and experienced engineers with passion to move ahead.

With the passage of time and our passion to go ahead, the plant and machines were increased, and handling facilities were enhanced from 20 tons to 40 tons and then upto 80 tons with the lifting height upto 15 mtr.(Two cranes working in each bay X 6 bays.)

UEI is equipped with full fledged fabrication shop and machine shop with heavy fabrication and machining facilities. Machine shop is equipped with 5 nos. of vertical boring machines(VIL-5) for  machining upto 3300 mm height and 3300 mm dia. A chain of horizontal boring machine is available in various size and capacities. Fabrication shop is equipped with latest welding generators/transformers, CO2 machine, saw machines etc in addition with various other machines like cutting, shearing, rolling and bending machines.

We are teamed with promising, dedicated, well qualified and experienced engineers in every department like Engineering/Design, Production, QC, MM and services after sales to provide defect free products to our esteemed customers.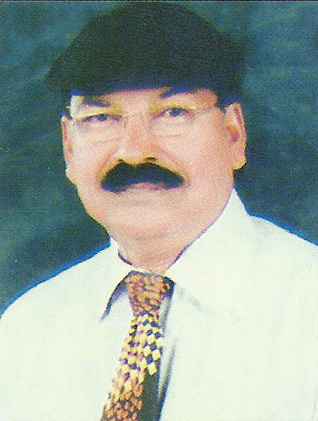 J. V. John
(Chairman)